How can farmers go green when they are in the red?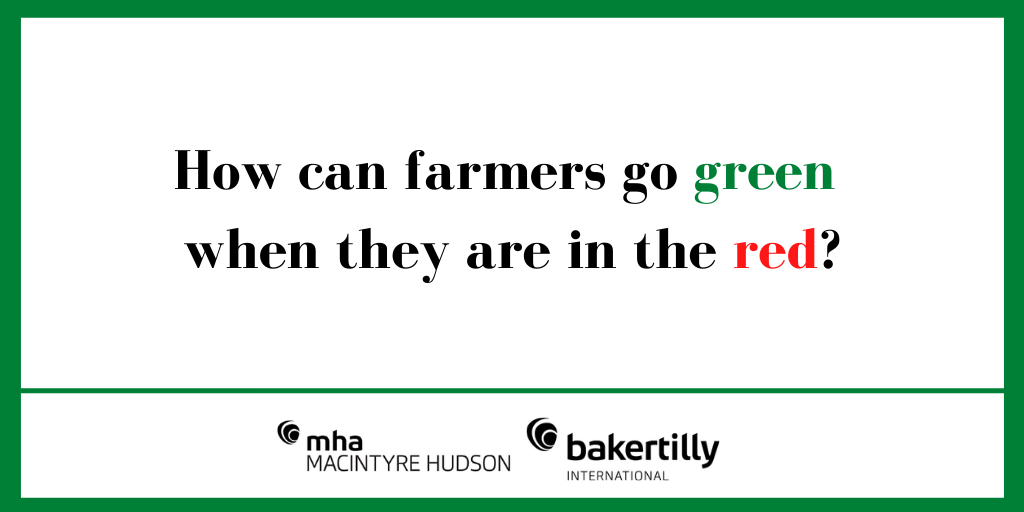 This event is presented by Rural Policy Group in partnership with accountancy, tax and business advisory firm MHA MacIntyre Hudson, part of Baker Tilley International. MHA has a nationwide sector team dedicated to Agriculture, Food, Farming and Rural Business.
The event is sponsored by Whitehead Monckton, one of the largest legal practices in Kent with offices in Canterbury, Tenterden, Maidstone and London. With over 230 years of history, Whitehead Monckton has experience providing intergenerational support to families and family businesses, ensuring continuity and innovation. As an approachable and professional practice, Whitehead Monckton offer a wide range of services specifically for businesses together with legal support for individuals. Sector specialisms include rural business, leisure business, equine law, property, wealth management and mediation services to fulfil the needs of diversified and family enterprises.
Financial sustainability and a degree of certainty are essential for creating the conditions in which Britain's farmers can invest in environmental sustainability.
Eight in 10 rural businesses want to be greener. For many, these ambitions are frustrated by the challenges arising from Brexit – such as labour shortages and restricted access to EU markets – as well the imbalance of power within the supply chain and policies which appear to favour the global search for cheap food and disincentivise British farming.
We need to get farming back in the black before this important industry can devote time and resource to tackling climate change within the food system and providing environmental services such as carbon sinks and clean power to the wider economy.
Join this important discussion and raise your questions at 2.00pm on Wednesday 20th October.
This event can be attended in person by visitors to the National Fruit Show. Visiting the show is FREE and the organisers only ask that delegates register in advance to comply with Covid safety measures.
A Sustainable Rural Economy
ELM & Commercial Opportunities